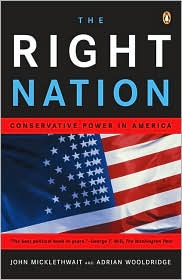 Please join us for the launch of the new Goldwater Institute book series, Who's Writing Now?
featuring
Adrian Wooldridge, co-author, The Right Nation: Conservative Power in America
1964 marked the high point of American liberalism. That same year also saw Barry Goldwater's failed bid for the presidency. But the seeds of conservatism's rebirth could be found in the principled message that Goldwater espoused. Praised by columnist George Will as "the best political book in years," The Right Nation tells the story of the hundreds of thousands of Americans who, energized by Senator Goldwater's campaign, joined the conservative movement and helped take America in the right direction.
Mark your calendar for upcoming authors, including:
Robert A. Levy, Shakedown: How Corporations, Government, and Trial Lawyers Abuse the Judicial Process, May 5, 2005.
Stephen Moore, Bullish On Bush: How George Bush's Ownership Society Will Make America Stronger, September 22, 2005.